Michelin launches a New Front Head Module to complete its innovative MICHELIN

Airprone

Kit for patients in intensive care.
MICHELIN INFLATABLE SOLUTIONS Healthcare & Emergency continues to work with healthcare providers to improve the positioning of patients with Acute Respiratory Distress Syndrome (ARDS) in intensive care units by adding a new module to the MICHELIN AirProne range - a front head module. Just like the side head module the MICHELIN AirProne range, this facial module ensures comfort and reduces the prevalence of pressure sores on the face.
What's new? Specially designed for patients with short necks and/or suffering from cervical spinal pathologies, this new module allows for head immobilization. This new air cushion, developed thanks to the collaborative work carried out with the teams of the polyvalent intensive care unit department of the Centre Hospitalier Intercommunal d'Alençon Mamers, allows the patient to be installed in a front ventral decubitus position in complete safety thanks to the maintenance of the intubation probe and to ensure the ventilation system of the critical patient suffering from Acute Respiratory Distress (ARDS) when it is put into place.
This new module will be available from Juin 2023.
MICHELIN AirProne
The innovative set of inflatable cushions for fully positioning patients in the prone position.

MICHELIN AirProne range is a set of inflatable units and covers that enable patients in intensive care units suffering from acute respiratory distress syndrome (ARDS) to be placed in the prone position (PP). The purpose of this medical device is to reduce the prevalence of pressure ulcers by properly positioning patients. The MICHELIN AirProne kit consists of 7 units themselves composed of high and low pressure cushions, as well as a 3D fabric specially designed to be in contact with patients' skin.
1 innovation breakthrough & 2 major patents
Advanced 3D fabric combined with low-pressure and high-pressure cushions:
• Drains off secretions and reduces the effects of perspiration and shearing
• Distributes pressure
• Adjusts positioning of the head, chest and pelvis

Specially designed head cushion:
• No pressure on the ear
• Side support
• Evenly distributes pressure
Reference : 593324
The genesis of the MICHELIN AirProne story

" We had a problem where our only hope for helping patients in respiratory distress was by ventilating them face down. But that position would cause such serious pressure ulcers that in some cases we had to stop prone ventilation. It didn't take me long and suddenly I pictured an inflatable device made of different pieces for different parts of the body, like the head, chest, pelvis and lower limbs. I sent Michelin a note. They replied immediately and were surprisingly receptive!"
Dr Gilles Touati, Cardiovascular surgeon, University Hospital of Amiens FRANCE
Testimonials
We had a patient in the ICU under ECMO and hemofiltration, he was positioned in prone position. The patient was marked on the skin. I suggested to the resuscitators to use your MICHELIN Airprone kit and I did a product training at the unit. The patient stayed 10 hours in prone position. Everything went well even with ECMO and the skin assessment is much better!
Christophe SARLET - Intensive Care and Logistics - Centre Hospitalier Luxembourg
During the first COVID wave, we quickly realized that putting patients in the prone position was essential for their survival. We had very little functional and adequate equipment for prone positioning of patients.
You contacted us and proposed us to participate in the evaluation and evolution of this inflatable kit. We accepted with great enthusiasm to test it with our patients in acute respiratory distress. Over time, you have listened to our complaints and made the necessary changes. Today, we are no longer impacted by the COVID as we were before, but we continue to use your kit for the prone positioning of our patients, so much so that our medical and paramedical teams are perfectly familiar with its use.
The installation is fast, the inflation of the cushions is ergonomic, with the use of hydrocolloid dressings, the integrity of the patient's skin is respected. The patient is put in prone positioning in complete safety.
We thank you for this precious help during this difficult period. For our intensive care unit, this innovative device has become indispensable in the prone positioning of our patients in the management of acute respiratory distress.
Samia Kacer, health executive, Surgical Intensive Care Unit La Salpétrière FRANCE
The inflatable modules used in our care unit are the head and thorax modules. They are beneficial in reducing pressure ulcers. In particular, the 3D fabric has a draining role for secretions. It thus allows to limit the risk of alteration of the skin condition of the patient installed in prone position.
Intensive Care Medicine Department of the Saint-Nazaire Hospital FRANCE
MICHELIN AirProne benefits
How to use the MICHELIN AirProne?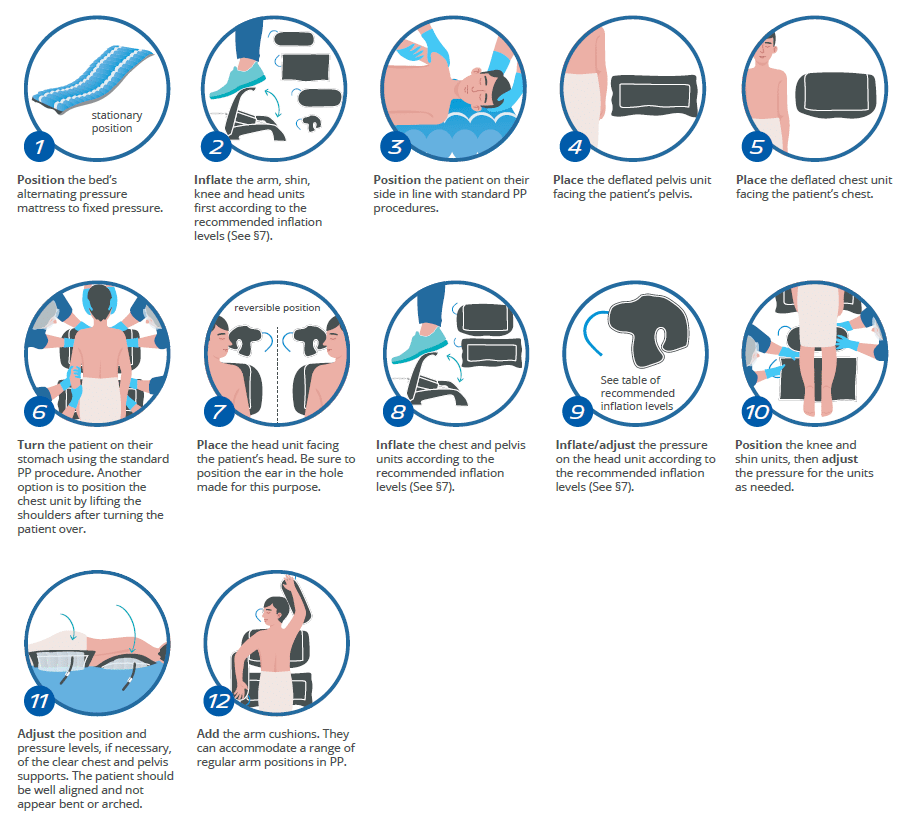 MICHELIN AirProne packaging
MICHELIN AirProne will be delivered to you with:
• A set of 7 inflatable units and covers
• A set of 7 spare covers
• A pump
• 10 spare clamps
• Training in the use of MICHELIN AirProne